Full Service
Concrete Cleaning
Is your pavement or concrete changing colors from oil, grease, and mineral deposits? The concrete surfaces around residential properties require regular maintenance and upkeep. Good news – ReadyClean is here to help.
Greasy, slippery walkways not only look unsightly, but can also be a safety hazard for people on your property. Let ReadyClean Exterior Cleaning Services help protect you from injury or lawsuits while restoring your home's exterior pathways with professional pressure washing services. In addition, hot water power wash will cut through years of built-up grime quickly and effortlessly, saving you time and money. As concrete cleaning experts, we can help homeowners keep their residential property looking great for years to come. Our experienced technicians have the knowledge and expertise necessary to clean your concrete surfaces safely and effectively. We'll return them to like-new condition in no time at all.
Book an appointment and enjoy your clean home!
Check Out Our Customer Reviews!
Concrete Cleaning
Services
With years of experience in the industry, ReadyClean Exterior Cleaning Services has built a reputation for delivering exceptional cleaning services that leaves your concrete looking spotless and well-maintained.
Sidewalk Cleaning

The sidewalk in front of your home affects how people see your property. When someone visits your home for the first time, they're getting an impression of where you live as they're walking or driving up the street.

First impressions begin long before they knock on your door. Our sidewalk cleaning services ensure that the sidewalk outside your home is an extension of your property – well-kept, sparkling clean, and free of trash and debris.

Walkway Cleaning

The walkway leading up to your front door is equally important. Garden dirt, oil stains from your vehicle, and frequent footfall discolor the area. It's time to book walkway cleaning.

Our team at ReadyClean can help ensure that your walkway is free of any blemishes using our pressure-washing expertise. We'll restore your home's exterior to its original condition to give a great first impression – book our walkway cleaning services today.

Driveway Cleaning

Your driveway sees heavy traffic and is the area most vulnerable to oil spills and grease from your car. Regular cleaning can help to remove these stains and prevent them from causing long-term damage to your driveway. From passersby to guests, everyone will notice a clean and well-maintained driveway. That includes you – don't you love to see it?

Let our team help you make sure that yours is up to par. We can remove any dirt, oil stains, or other messes that may have accumulated over time. By keeping your driveway clean, you can improve the curb appeal of your home and ensure that it remains in good condition for years to come. Schedule our driveway cleaning services, and let's get started.

Patio Cleaning

Who doesn't love relaxing on a clean and well-maintained patio?

Whether you're entertaining guests or just enjoying some peace and quiet, the condition of your concrete patio surfaces can make or break the experience.

Book our patio cleaning services and keep your relaxation station in top condition.
Our ReClean Guarantee is our promise that if you're unhappy with your cleaning after it's done, we will make it right!
Simply contact us to come back at no additional cost and take care of any issues you may have experienced during the initial cleaning process.
Why Choose ReadyClean
for Your Concrete Cleaning?
Here's what makes our residential concrete cleaning services a cut above the rest.
High-Quality Products & Equipment

We only use top-of-the-line products and equipment to deliver the best results. We also acknowledge that different surfaces require different approaches, so we make sure to use the most appropriate products for your individual needs.

Excellent Customer Service

We take great pride in providing excellent customer service. Our team of experts is available to answer any questions you may have and provide additional information about our services. We're here to help and will do everything we can to ensure you get the best results.

Local Company

We are 100% locally owned and operated in Des Moines. We are proud to be a part of the local community and work hard to provide top-notch services for our clients. Our staff is from the local area. We trust our team to do a fantastic job every time – as a living wage employer, we believe that treating our staff fairly guarantees the best results for our customers.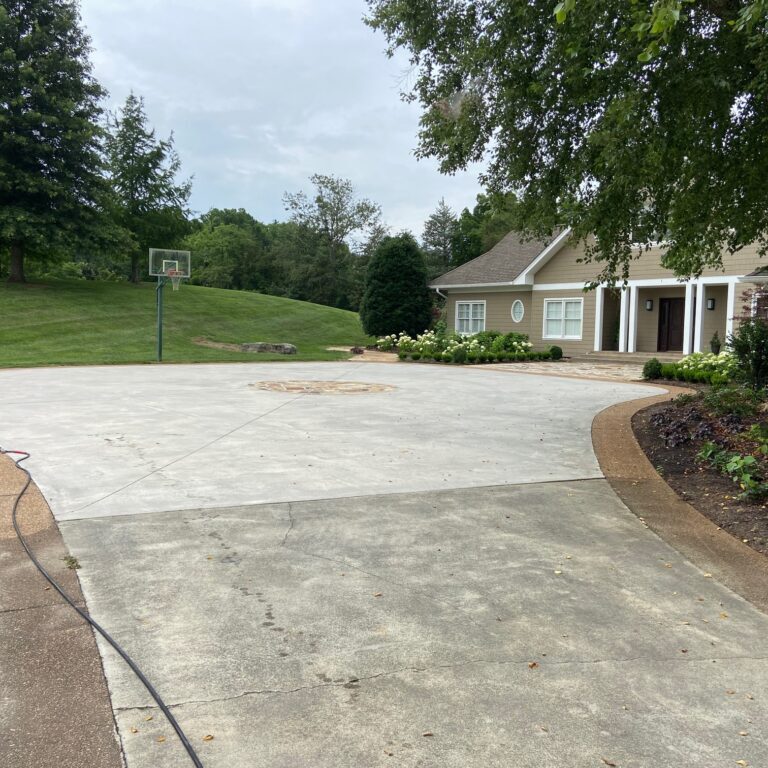 With the increasing popularity of concrete washing, some frequently asked questions consistently come up. Here are some of the most common:
Pressure washing is the most effective method for sidewalk cleaning. It removes stains and can take out unpleasant waste like chewing gum.
Pressure washing is the best driveway cleaning technique. Along with chemical agents, it's the most effective way of removing grease stains and ensuring an even finish after cleaning.
A combination of pressure washing and soft washing may be used for patio cleaning. Areas near plants might require a more delicate touch, but pressure washing can blast out weeds that grow between patio slabs.
Taking Care Of
Your Concrete Areas
Ready to make your property look as good as new? Our team at ReadyClean is here and ready to help you bring back that clean, fresh look you've longed for.
Contact us today to learn more about our services and how we can help you enjoy your clean home!
ReadyClean
Accolades & Affiliations